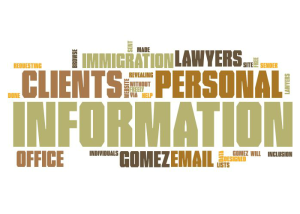 THE GOMEZ LAWYERS WEBSITE is designed to help you freely browse the site for information without revealing personal data. Any personal information sent to our Office via eMail, is done so at the free will of the sender. Our eMail lists are made up only of individuals requesting inclusion in our online services and events covering immigration topics.
All information given to Gomez Lawyers from its prospective clients, clients or agents of its clients is kept strictly confidential and on a need-to-know basis, which is protected under lawyer/client privilege. You can be assured that your personal information is used only by our trained legal staff for the purpose of the work you have engaged our Office to do.
Gomez Lawyers never supplies any other person or organization with your information except those government agencies involved in your immigration process and when authorised by you.